We received an appeal from Bettina Linke, who is one of the few people concerned with the future of the ancient Irish fort of Grianan of Aileach and who is currently trying to save it from a bad restoration.
We visited that monument back in 1989 and at that time we found it in great shape. Unfortunately, the subsequent "restorations" really made a disaster of such a beautiful fort.
This is one of the photos we took back in 1989:
And this is how it looked it 2005 (Photo courtesy Bettina Linke):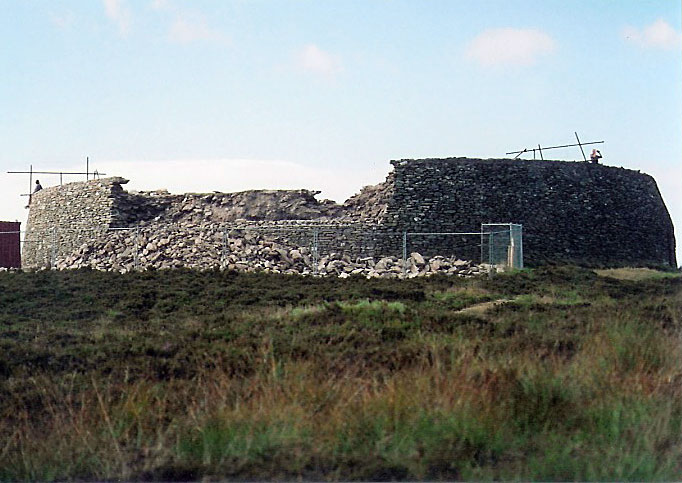 To follow closely the slow destruction of this fort, please visit
Bettina Linke's website devoted to Grianan.
Below is an abridged version of an article appeared on Derry Journal and Derry Today:
Grianan fort restoration an 'act of cultural vandalism'
Internationally-acclaimed sculptor, Maurice Harron, has branded restoration work at Grianan Fort (Co. Donegal, Ireland) as "a gross act of cultural vandalism". Mr. Harron says that, as a result of the ongoing renovation works, the historic monument has dramatically changed shape. The restoration work, he insists, should stop immediately and expert stone masons brought in to "try to undo the damage already done." However, the Office of Public Works (OPW) - which is overseeing and carrying out the work - insists its 'intervention' will not only considerably improve the future stability of the monument but also ensure safe public access to the site.
The OPW says its conservation design team at the Grianan of Aileach site includes specialist archaeological and engineering consultants and that all work is being overseen by an expert team from its Heritage Services branch. Maurice Harron, however, maintains that the original loose-stone technique used to construct the pre-Christian stone fort - known as corbelling and giving the structure its "wonderfully subtle curved wall surface" - has been abandoned "and the walls are now being knocked down in 15 foot sections and rebuilt flat and straight." As a result, says Mr. Harron, "the round fort of Grianan is now a polygon. There is no blame on the workers themselves but those who planned and are supervising this carry-on deserve to be criticised. They are using contemporary building techniques and materials presumably in an effort to make the building more safe and functional. Grianan of Aileach was not built to be 'safe and functional'. It is an extraordinary, evocative structure which has survived for more than two thousand years."
In response to Mr. Harron's concerns, the OPW in Dublin revealed that, following a series of major collapses, the monument was placed in State care in 1904. A spokesperson said: "Local repairs were carried out at the time but, due to the unsatisfactory nature of the restored external masonry works and rubble/earth centre fill, sectional collapse continued at regular intervals." "A specialist structural engineering and archaeological survey undertaken by OPW in 2001 revealed the lower 'original' sections of wall and confirmed the reasons for the monument's instability. The original inward leaning and stable profile and line of the Grianan wall was established and the monument is now being restored to that design. The present intervention should considerably improve the future stability of the monument and ensure safe public access to the site," he concluded.

You can post here your feedback.